Long story short, Alisa (my SIL-to-be) asked me to be a bridesmaid in her and my brother's wedding this August. Alisa's sister's MIL is making the wedding gown and four of the six bridesmaid's dresses. Alisa and Ali (Alisa's daughter) took the kids and I out to the lady's house for me to get measured, and for Alisa to be fitted with the sample bodice the gal put together. On the way home, we stopped at a neat park that was recently put in, so the kids could have a better chance to play together.
Emily and Ali were giggling up a storm, swinging on this big swing, and I couldn't resist taking a few pictures. Ali is almost two full years older than Emily, but they get along very well, and really enjoy each other's company.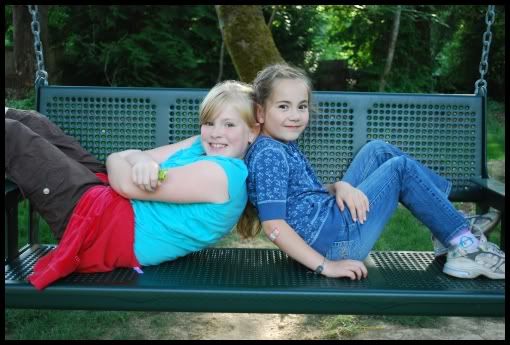 They were FAR more interested in having me take SILLY pictures of them, though!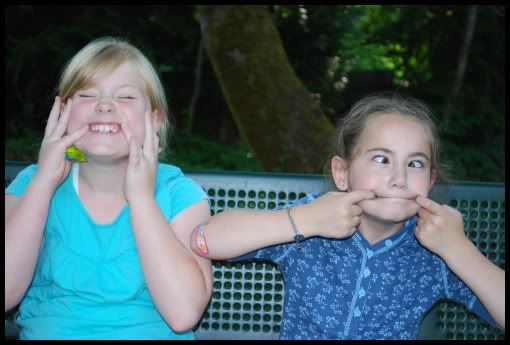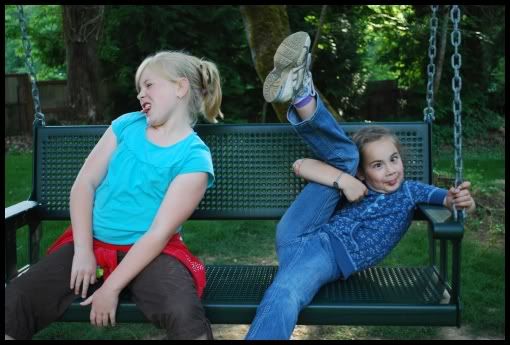 While I was in the middle of taking funny pictures of them, Ali suddenly started screaming and laughing, and Emily joined in, and I couldn't figure out what the problem was. Emily pointed and I turned to look behind me, and there was Connor, three feet behind me, pants down around his ankles, peeing in the grass at the park. I snapped a picture of the girls before I realized what was going on: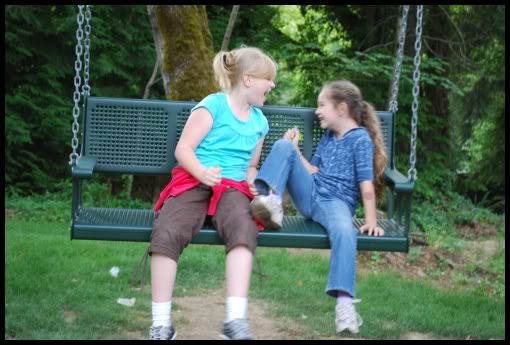 I look forward to the girls continuing to get to know each other better, and building their friendship.