We had heard about a week prior to our vacation that it was supposed to RAIN the entire week, but every day the forcast changed and added one more day of sun, until the final forcast (the night before we left for CA) called for sun Monday through Thursday, and rain Friday. PERFECT, because we were planning to play Monday through Thursday, and were flying out first thing Friday.
We ended up with low 60's as the temp, and mostly sunny (Wednesday stayed cloudy until well past noon, but eventually burned off and was sunny). It was CHILLY at night in just our sweatshirts, but plenty warm during the way where having a heavier jacket would have just been annoying!
Day 1 at Disney started pretty much right as the park opened at 9am (I think we were a little more like 9:15am by the time we finished up with our character breakfast and made the walk to the park entrance).
Our first ride at Disneyland!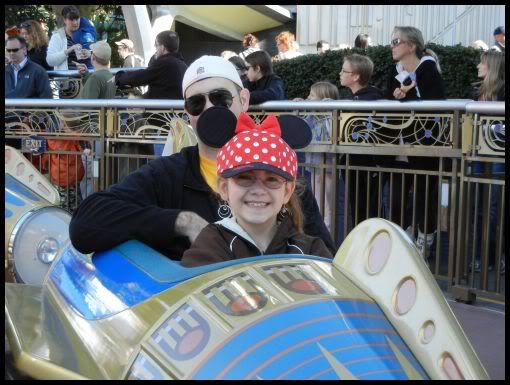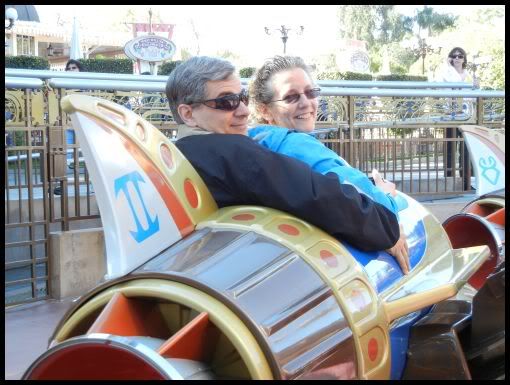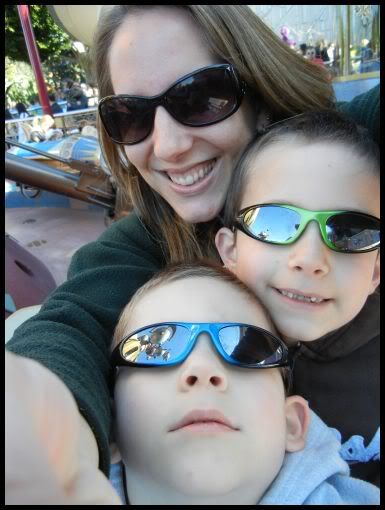 We got held "hostage" on It's a Small World when the ride broke down, but thankfully, we'd exited that last portion of the ride and were out in the sun while we waited the 15-20 minutes or so it took for them to come through and let us off.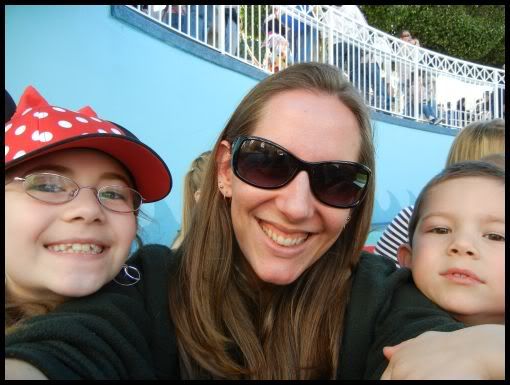 It wasn't the greatest ride for the adults to be stuck on, but the kids thought it was a great ride (Connor kept saying, "This is AWESOME! Look at all those different worlds!" and pointing out every last detail as we passed through). And I'd rather be stuck at ground level than way up high on a roller coaster or something!
Dan and the kids have strong stomachs so were fine on the Mad Hatter Tea Party ride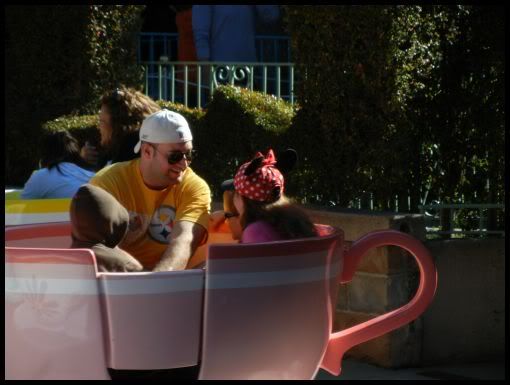 But my mom and dad and I steared clear! Mom and I posed in the tea cup sitting off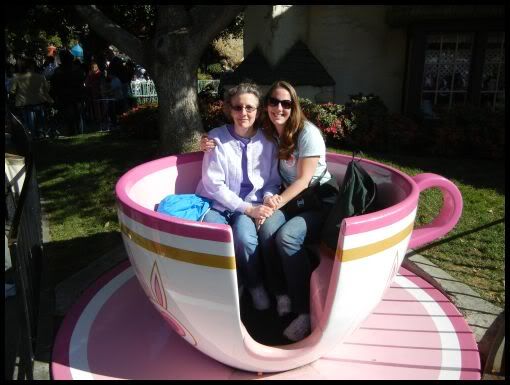 Way late in the evening we finally found our way over to Space Mountain, which Connor LOVED LOVED LOVED, and Jared and Emily sounded iffy about.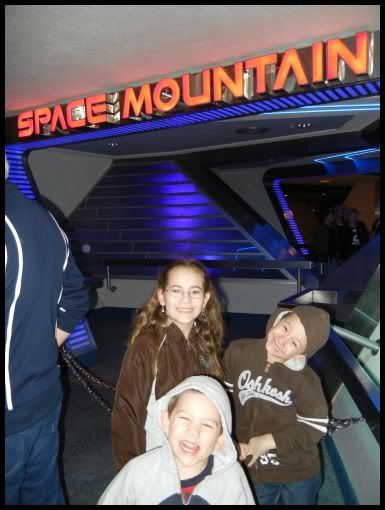 We did about half the park on our first day there; I just didn't take pictures of every single ride along the way...
On our way towards the gate to head home for the night, I asked Dan to stop and take a picture of the kids and I in front of the lit up castle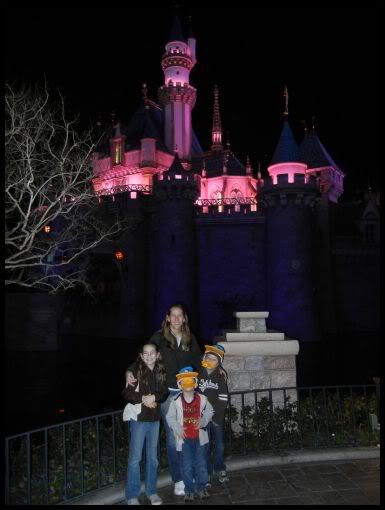 We also stopped and had someone take a picture of our entire group in front of the Mickey Mouse head in the garden by the main gate (I wish we'd knelt down or something, though!)