We have approximately 11 palm-sized pumpkins (and quite a few just-starting-out pumpkins as well). It's hard to dig through the cluster of vines to really see for sure, but it looks like we're on track to officially have a good amount of pumpkins!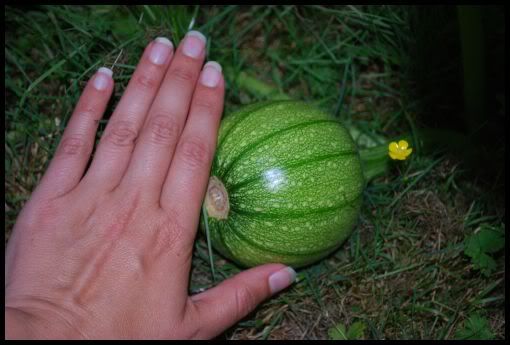 I think once the 11 good sized ones get a little bigger, we'll be trimming the vines down a bit. I want the plants focusing on growing the pumpkins to a good size, versus focusing all the energy into vining out everywhere.
There's not much point taking pictures of the garden boxes at this point. Jared's beans are producing nicely, the lettuce has been awesome. Connor's carrots look the same as they have for a few weeks, and Em's garden is so taken over with vining plants that you can't see it at all!!! But I had to at least share one of the larger pumpkins.