Last Friday was such a beautiful day, so Connor and I decided to spend part of our "Mommy/Connor Date Day" hanging out at the beach in our neighborhood. Nothing glamorous by any means, but it's quiet, close to home, and entertained Connor for two hours before I was starving and made us go home for lunch. *grin*
I packed up a book to read, made sure my camera was fully charged and had room on the memory card, grabbed some beach toys, and off we went. When we arrived, we discovered a low tide! Couldn't have asked for a better set-up as far as Connor was concerned.
Connor immediately dashed off across the beach to hunt for crabs, and quite quickly dashed back up to me:
"MOM! I barely even set my foot down and look how far I sunk! I think I'm going to get muddy today, don't you think?"
Then he found a little critter
Which he stopped to inspect more closely several times as he brought it up to me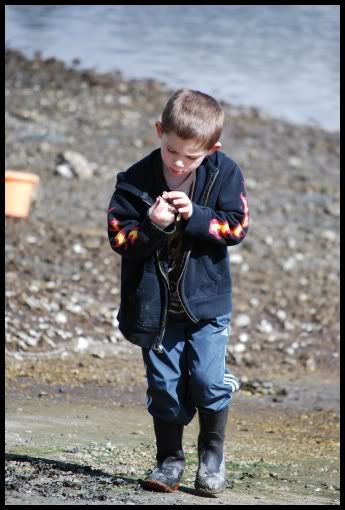 Of course you can't have a bucket at the beach and not spend at least a little time playing around in the water... He kept looking back at me waiting for me to tell him to stop. I figured he might as well have his fun and never said a word!
"It's really hard trying to dig and not get my knees or butt dirty. Do you care if I just sit down?" (Nope; have a seat!)