Tuesday was supposed to be nice and sunny, so we'd made tentative plans to go kayaking with some friends. The day's plans got all changed around, and we ended up not being able to get together with our friends after all, but Emily and Connor still really wanted to kayak (despite the fact it never did get sunny, and was only 49 degrees!). We called Grandpa Dan, who borrowed some kayaks from his neighbors, and we took the two crazy kiddos down to our neighborhood beach/dock and sent them out! (We'd visited my aunt and her grandson earlier in the morning and Jared opted to stay with them instead of coming out kayaking)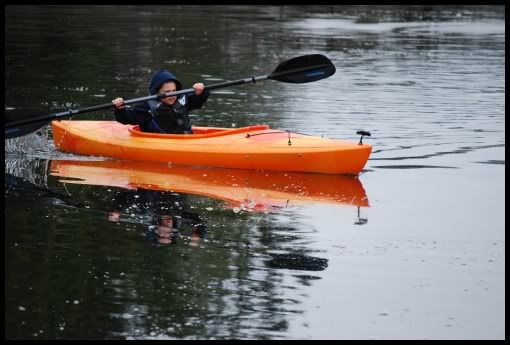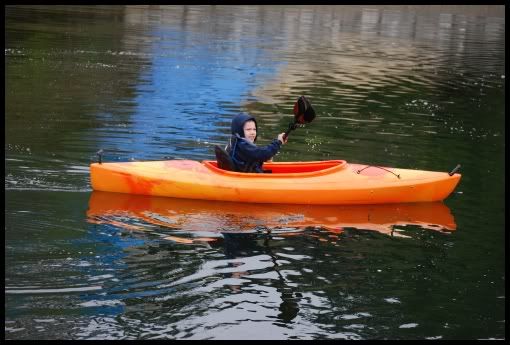 Emily Grace kept wanting to go OUT much further than I was letting her, but Connor isn't quite as competent and I didn't want HIM out that far, and I didn't want her out that far by herself. When we're with our friends and there's a good sized group of them out that far together, I'll be fine with that (easier to see a big group of them versus just one kid if a boat comes along or anything... Yes, I'm paranoid!).
Most of my pictures of Emily are from behind because she just kept paddling around the perimeter of the boundaries I'd set for her, looking longingly at the bigger waters further out. LOL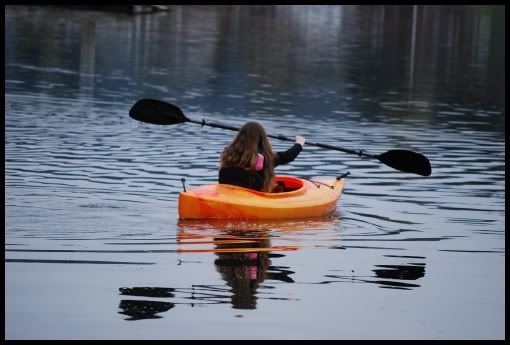 I did call her in for at least one good shot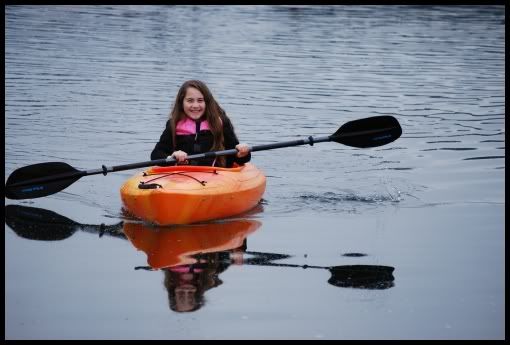 Connor paddled over and posed nicely for me as well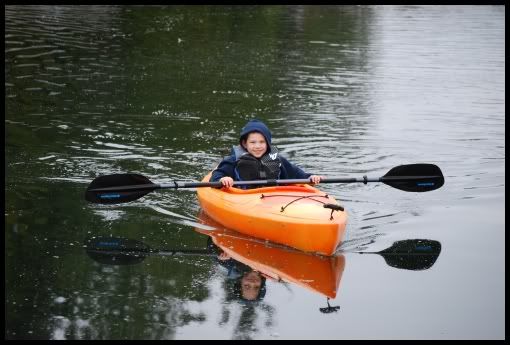 The water was really calm, there wasn't any breeze/wind, and my only complaint is that I didn't think to bring a camp chair down with me so I'd have a place to sit... They stayed out for about an hour to an hour and a half, and had ZERO desire to come back in, but my FIL needed to get back home to make an important phone call, so we had to pack up and head home. They've already asked numerous times when they can go out again. Looks like we'll be searching Craigslist for affordable kayaks so we can enjoy this activity more frequently without bugging people to loan us the equipment!