Besides dancing and singing, Emily has another less known passion FOR ROCKS. I should have suspected this would be an on-going obsession when she was 2.5 and I took these pictures of her, while at the same time explaining that rocks are for OUTSIDE and that NO, the rock would not be sad and cry if we made it stay outside: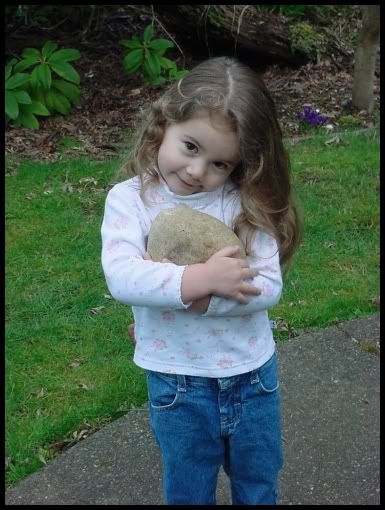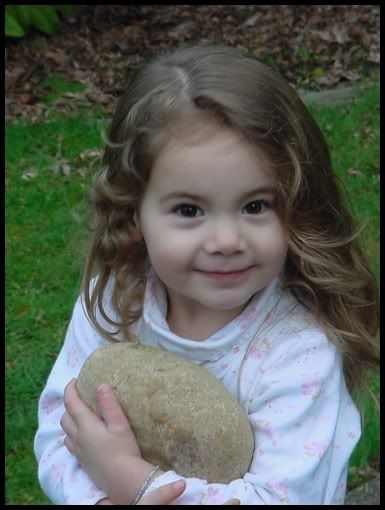 (excuse me while I have a momentary "BOO HOO" moment over how teeny tiny she once was and now ISN'T!)
Fast forward to Kindergarten and I can't begin to tell you how many ROCKS my child has brought home from school! They're generally about 2inch or so, like the garden-style river rocks. On average, I'd say she brings home a rock once a week. We've discussed how we have plenty of rocks at home and don't need to bring any home from school. We've talked about how if she keeps bringing rocks home school, there won't be any rocks left for the other kids to play with. We've talked about how you DO NOT PUT ROCKS IN YOUR POCKETS AND BRING THEM HOME FROM SCHOOL. (she still brings rocks home from school). She doesn't DO anything with them. After I'd discovered them and either thrown them outside or in the garbage, she never asks about them. WHY DOES SHE KEEP BRINGING THEM HOME?
And the story about her begging to bring the large rock (pictured abover) into the house? TOTALLY TRUE. She cried. She cried some more. She tried begging Daddy. We hauled her into the house without the rock. She lived. But apparently still worries it will be lonely and wants to bring it home lots and lots of little 2 inch friends.
Reminds me of the movie The Shawshank Redemption where the guy is digging his way out of prison, and everytime he gets to go outside, he grabs handfulls of the dirt and lets it fall down his pantleg outside to the ground where it blends in with all the other dirt. Makes me wonder if my child is somehow trying to dig her way out of the schoolyard and is bringing home the rocks to dispose of all the evidence... ha ha ha!