Bedding for the boys has been found! Alert the media!
After a LONG drawn-out search for boy bedding, I've finally found something I'd be happy with. My goal was to find something suitable for a boy (boys, in our case) that wasn't totally BOY (bugs, sports, Spiderman/Superman/etc, trucks). I didn't want it to be something they'd lose interest in by next year (do I know for sure Jared will still be obsessed with Spiderman or Superman next year, or that he'll still be into construction stuff next year, do I have ANY IDEA what Connor will be interested in next year?).
A few weeks ago, I found one set online that I LOVED. It had wavy blue, green, white and yellow pinstripes. It was a reversible duvet cover. It had optional decorative pillows. It was boy, it was fun, but it wasn't BOY. It also cost $998 for a three-piece set! OMG! Do people actually SPEND that kind of money on their children's bedding? I don't even spend that kind of money on MY bedding!!!! The search continued.
There's been a reversible comforter at Target I've had my eye on for awhile, but it was just too PLAIN (solid light blue on one side, and solid dark blue on the other) and I didn't want the bedding to be totally boring for the boys, so I've held off, hoping to find something better suited, but knowing it was there if all else failed. WELL, the last time we went to Target, I checked out the bedding aisles, and this time, there was a new car/truck themed set. WAY too busy for my tastes, but there was an optional decorative pillow in light blue and dark blue, with a single red car on the front with the words "Beep Beep". It was something fun, without being crazy busy, it gave the light blue/dark blue set a little extra color and it sparked my interest. Then, I noticed some light blue/dark blue plaid sheets that would go perfectly with the comforter and the decorative pillow that added some "detail". I was sold.
So without further ado, HERE ARE SOME PICTURES: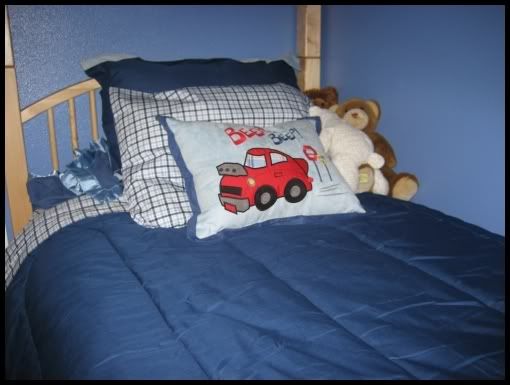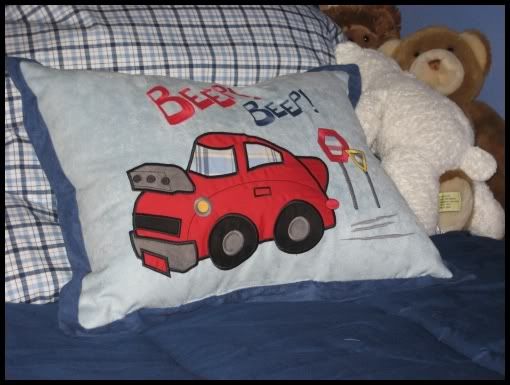 The boys LOVE their "beep beep pillows" as Jared calls them, and Jared is just thrilled as could be to have new bedding along with his new bed. Dan thinks I'm nuts for putting this much effort into it, but J's reaction was well worth the LONG search. I'm very pleased with how it all came together.